Seven Principles
Unitarian Universalist congregations affirm and promote these Seven Principles:

Sources From Which We Draw Our Traditions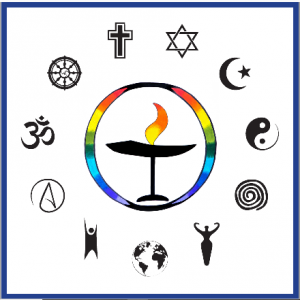 Jewish and Christian teachings call us to love our neighbors as ourselves
Words and deeds of prophetic women and men challenge us to confront evil with justice, compassion, and the transforming power of love
Wisdom from other world religions inspires us in our ethical and spiritual life
Humanist teachings counsel us to heed the guidance of reason and science
Direct experiences of mystery, wonder, and beauty renew the spirit and keep us open to the forces that create and uphold life
Spiritual teachings of earth-centered traditions celebrate the sacred circle of life and instruct us to live in harmony with the rhythms of nature
How Unitarian Universalist Congregations Are Organized
Each individual Unitarian Universalist (UU) Congregation is owned and governed entirely by its voting members. Each Unitarian Universalist congregation has a unique personality and is autonomous in its decision-making.
The purpose of the Unitarian Universalist Association (UUA) is to provide some centralized services and coordination. For example, the UUA provides religious education materials, ministerial training/accreditation, and a national/international presence.
The UUA offers opportunities for congregational leaders to gather and share ideas and resources in all aspects of congregational life, such as worship, pastoral care, youth ministry, continuing education, and administration.
We also join with other UU congregations to affirm and promote our principles in the wider world.
To Learn More About Unitarian Universalism
There are four excellent ways to learn more about Unitarian Universalism.
Watch Voices of a Liberal Faith on YouTube.
Check out the information and resources available through the Unitarian Universality Association (UUA).
Visit one or more UU churches to see first-hand who we are and how we combine a unique blend of personal inquiry, community worship, and mutual care during times of personal and community crisis.
You are always welcome at any UU church, and the members of the Unitarian Universalist Church in Milford (UUCM) look forward to welcoming you for a Sunday service or other event. Read more information about becoming a member.