Are you, or a member of your family, gay, lesbian, bisexual, or transgender (LGBTQ)? Are you looking for an affirming religious alternative?
We are a safe spiritual haven for LGBTQ individuals and families.
We value the identities of our LGBTQ members and honor their committed relationships.
We acknowledge the life experiences of LGBTQ individuals and families in all aspects of our congregational life.
We are an official UUA Welcoming Congregation.
"Unitarian Universalists have long called for the full inclusion of gay and lesbian people in church and society … the human family is one, and the fears and hatreds that divide us must be overcome … affirmation of gay and lesbian [bisexual and transgendered] experience flows naturally from our tradition of freedom, of creativity, of respect for intuition and reason and life experience …" UUA c. 1998
Gay, lesbian, and transgender individuals have served as fully ordained ministers and Directors of Religious Education in many UU congregations.
In New Hampshire, UU ministers performed commitment ceremonies for same-sex couples before same-sex marriage became legal and now celebrate the opportunity to perform marriages for gay and lesbian couples.
History of Welcoming Congregation at UUCM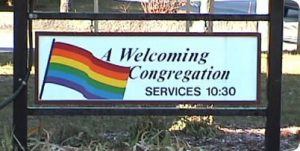 1992: Welcoming Congregation Committee led the congregation through the Welcoming Congregation curriculum prepared by the UUA.
1994: We became an official UUAWelcoming Congregation.
1998: Our Church Board reaffirmed and unanimously ratified a statement of our commitment to welcoming LGBTQ people of faith.
2006: UUCM Board voted to fly a rainbow banner from the church tower.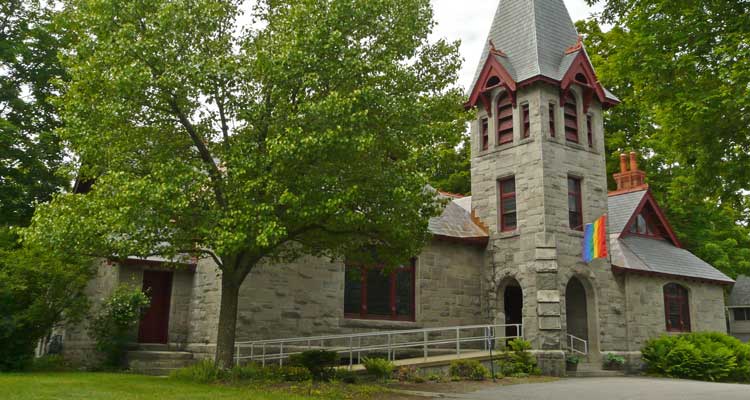 1998: A Welcoming Congregation sign was added to our church sign on Elm St.