Welcome to UUCM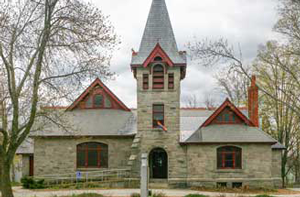 You'll feel the warmth of the Unitarian Universalist Congregation in Milford (UUCM) community when you first walk in the door on a Sunday morning. You'll notice people of all ages greeting each other, happy to be together. As a newcomer, you'll be welcomed. Fill out this form and we will contact you.
At UUCM we respect that each person is unique and has different needs. Some people come for worship and deep reflection, and others are looking for a more social experience. Wherever you are on your journey — you can find your place here. Read what some of our congregants say about the importance of UUCM in their lives.
'I came here looking for a safe harbor for myself and my family. UUCM stood out as a beacon of hope and love, a spiritual lighthouse of sorts. I found that and more. I found a home.' Read more.
'We felt that our opportunities for spiritual growth here were cleverly disguised as humanities lectures. We love learning, being inspired and having a clearer understanding of this lens on the world. Our UU principles provide a framework, that made it so easy to help explain this crazy world to our daughter.' Read more.
'We work in our beloved community to share who we are, what our joys and concerns are, how we think we can help and we learn how to accept half loaves, imperfect arrangements, inopportune lessons.' Read more.
---
The Sunday morning worship experience at UUCM can be exuberant and provocative, as a wide variety of topics are explored. But worship at UUCM is not confined to Sunday morning. We are committed to living our principles in all our interactions — both inside the church walls as well as in the greater community.
The Unitarian Universalist Congregation in Milford is a great place to come to challenge yourself to live life fully, to renew your spirit, and to engage with others seeking similar challenges. See the UUCM brochure.