It's always a good idea to check the Calendar to confirm that the event has not been cancelled or changed.
Participate in Sunday Services
On Sundays from September through June, congregants are encouraged to participate in/help with various aspects of the service that we all enjoy. Sign up to be a Worship Reader, Garden Door Greeter, Bring Sunday Snacks, Help with Coffee Hour setup or cleanup, and Take the Collection.  Your help will be truly appreciated by the Worship Team and Hospitality Committee.  Sign up here.
---
An Evening of Music and French Cuisine (order tickets NOW!)
Saturday, September 23, 5:30 PM – 10:30 PM at UUCM, 20 Elm St, Milford, NH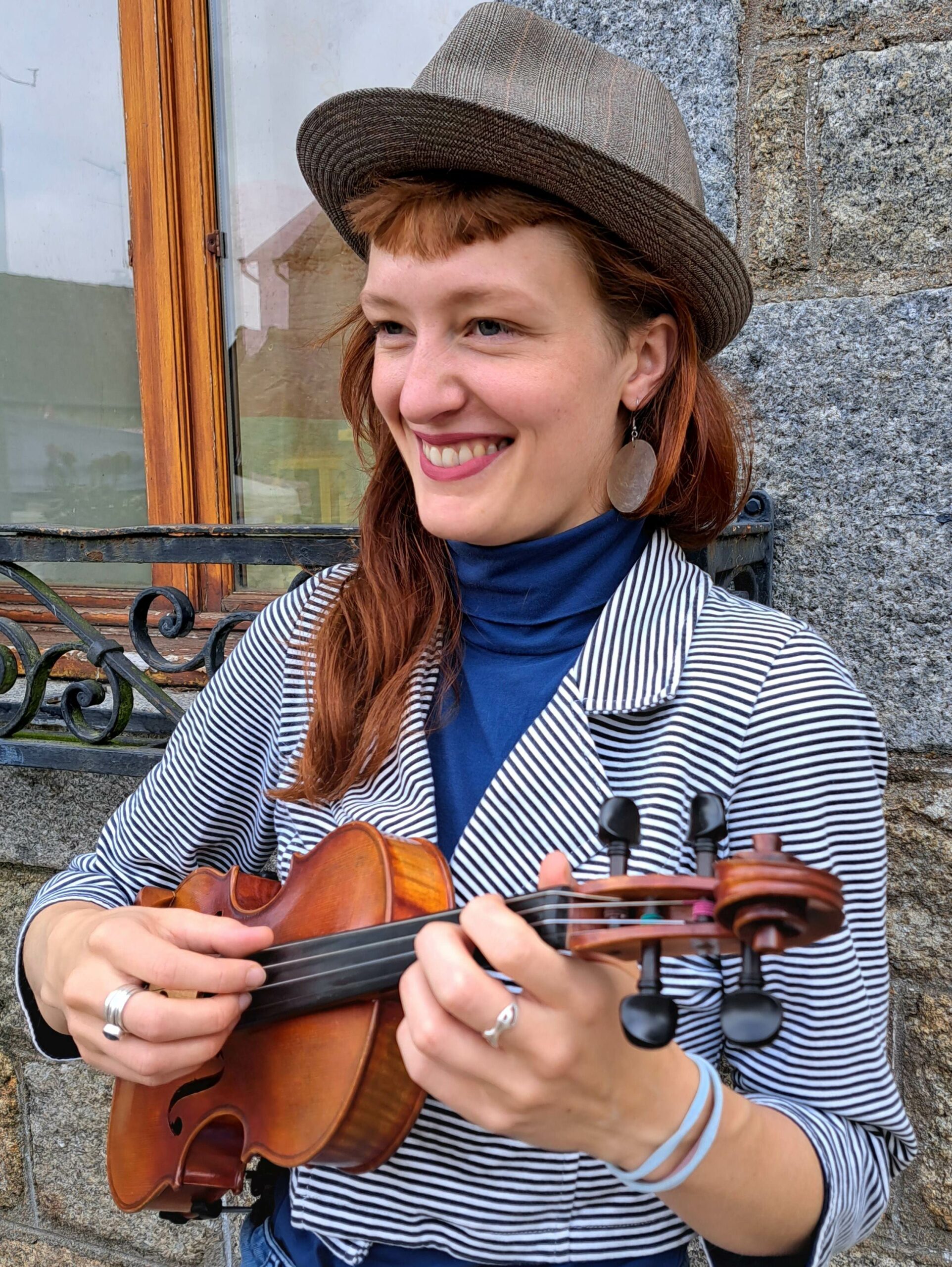 Join Ellie Davis and Company for an evening of music, stories, connection, and bonheur (feeling good), and of course, de la bonne bouffe (good food)!
THE MENU (from 5:30pm)
A homemade, three-course French meal of appetizers (apéro), vegetarian ratatouille, and authentic dessert crêpes. Apéro starts at 5:30pm, dinner at 6:15pm. Vegan and gluten-free options available. Wine available. Dessert is included in the concert-only ticket price.
THE CONCERT (7:30pm)
Ellie Davis, daughter of Jackie and Rick Davis, attended UUCM her entire childhood. She has lived in Scotland and Ireland, and now lives in Brittany, France. An accomplished singer-songwriter, Ellie returns for a visit to share her experiences through original compositions and well-loved French songs, played on guitar, fiddle, loop station, and featuring a special guest with vocal percussion.
TICKETS: Get yours online today through Ticket Tailor! Order by Sept 21 if you plan to attend the dinner.
A portion of the proceeds will go to the Ferry Beach Scholarship Fund!
Concert & Dinner
Adults $35; Seniors $25; Children (5-12) $15; Under 5 free
Concert & Dessert
Adults $20; Seniors $15; Children (5-12) $10; Under 5 free
Questions? Contact Ellie at elmdavis222@gmail.com
Looking forward to seeing you there! Bring your friends!
---
Free Movie!
Saturday Sept 30 @ 6:30pm
Milford Pride is hosting a free screening of the movie Nimona at UUCM in Barnum Hall. Doors at 6:30pm, movie begins at 7pm. Free Admission with cash snack bar. *ALL are welcome!*
---
Community Sing Along
2nd Thursday of the month, 7-9:30 pm
All are welcome to a singalong and jam session using the Rise Again Songbooks with songs we all love to sing. Instrumentalists and voices of all sorts are welcome! Even you! Songbooks are available, but feel free to bring ten copies of your favorite song lyrics (music or chords optional). Check the calendar for details.
Need more information? Contact: Amy Conley
---
Community Suppers
3rd Wednesday of each month, 5:30-6:30 pm
Provide affordable/free meals for individuals and families
Ease the meal prep burden on busy families
Allow members of the church and the Milford area community to get to know one another better
For more details, click here.
Want to help? Send email to office@uucm.org
---
Crafts Group
Mondays at 9:30am
Creating beautiful crafts throughout the year to sell at the annual Holiday Fair in early December. We are always welcoming new crafters – bring your new craft ideas or help produce those we're working on.
Want to help? Come on a Monday morning.
---
Maintenance Team
Fridays, 9 am – noon
They tackle the seemingly endless list of maintenance and improvement tasks that accompany our lovely, old historic building. And in the nicer weather, they do the mowing in summer, raking in fall and keep the gardens looking beautiful.
Want to help? Stop by on a Friday at 10:30am, when we break for a snack and discuss upcoming projects. For more information, contact property@uucm.org