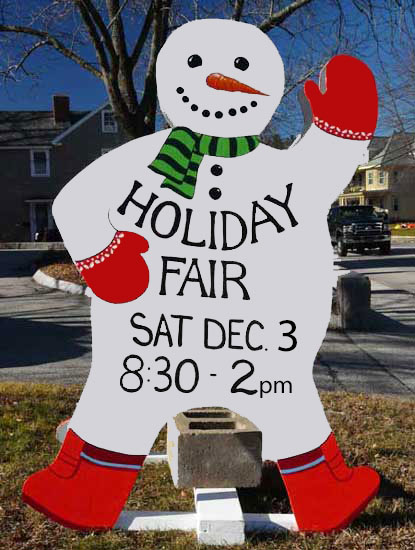 UUCM Annual Holiday Fair
Saturday, December 3 From 8:30am – 2pm
Save the date and plan to spend the day at our wonderful holiday fair—in person again after 2 years! Cash, checks and credit cards accepted.

Browse the Bakery
Peanut brittle, Caramel Corn, Fudge, Candy, Jams & Jellies, Pickles, Peanut Butter, Christmas Cookies, Gingerbread People, Stollen, Sweet Breads, and Meringue Mushrooms
Raid the Ritzy Boutique
Marvelous gently used items to keep or give. A great selection of Jewelry, beautiful Scarves, Home Decor items, Holiday Decorations and Children's toys and books.
Chow Down in the Cafe
Come for a leisurely breakfast (scrumptious strata, scones, pancakes), sausage, and a refreshing lunch (sandwiches and hot dogs, hearty soups, yummy pies)
Fall in Love with Beautifully Crafted Items
Hand-crafted Jewelry
Many different kinds of unique ornaments
Laurel & Pine Wreaths
Handwoven pillows
Upcycle items like baby bibs and hats
Wind chimes
Handmade cards
Gnomes
Hand knit hats, Scarves, Mittens & more Patchwork Potholders, & Scrubbies
Cat toys, Dog bandannas & sweaters, Dog biscuits.

Lend a Hand
If you haven't already done so, volunteer sign-up sheets are online and in Barnum Hall right now! There's lots of ways to contribute. We look forward to everyone's contributions!