[sharethis-inline-buttons]
When:  Saturday, December 7, 2019, 8:30AM to 2PM
Featuring:
Cafe – Hot Breakfast and Lunch

Homemade muffins, scones, and veggie or meat cheese strata.
Made-to-order sandwiches, delicious soups, and scrumptious pies

Beautiful Handcrafted Gifts, Ornaments, and Jewelry. Here's a peek at a few samples from our handmade crafts selection.
Bake Shop – Holiday Breads, Cookies, Candies, Jams & Jellies
Unique handcrafted Laurel and Pine Wreaths
Ritzy Boutique (gently used giftable items, including jewelry). See photos of some sample Ritzy items.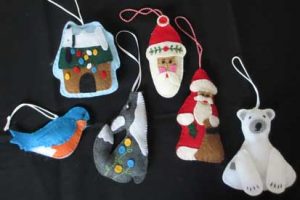 We accept credit cards, cash and checks.
Click here to view/print the Christmas Flyer 2019
---
This is a wonderful opportunity for UUCM members and friends to work together  at one of our largest fund raisers of the year.  Folks have spent hours pricing items for the Ritzy Boutique, and the Crafts Group has been working their magic on patchwork potholders, ornaments, handcrafted jewelry,  hand-knit scarves, mittens and hats for months.  The Café will have yummy stratas, homemade soups and desserts.
This annual event is now held the first Saturday in December and encompasses many fairs – Congregational Church, Jacques School, Unitarian Church, Town Hall, Catholic Church, along with the Methodist Church and Baptist Church, who have moved out of the downtown area.  This has become an immensely popular day in Milford drawing hundreds and hundreds of people into town and also to the fairs held in the surrounding towns. 
Read the rest of the Holiday Fair history.